March 28, 2023
František Zahradníček
Sometimes it pays for a person to treat himself to a vegetable salad instead of well-cooked meat, which is much more healing for digestion. An example can be these salads with Chinese cabbage.
Some have become so accustomed to eating meat, sausages or meat substitutes that they have completely forgotten that even a salad is considered a complete meal. At the same time, the good thing about salads is that if you make them with more ingredients, you can eat them well and start losing weight at the same time. If you want to treat yourself to a salad, try these 3 types of salad with Chinese cabbage.
The ingredients you need for the first salad
For the first recipe you will need the following ingredients:
300 g of chicken breast
100 ml of boiling water
3 pcs of potatoes
1 tablespoon of apple cider vinegar
1 onion
1 teaspoon of sugar
3 boiled eggs
1 teaspoon of salt
150 g of hard cheese
1 teaspoon of mustard
150 g of Beijing cabbage
3 spoons of sour cream
Preparation procedure 1. salad
Start preparing this salad by cutting the chicken into strips and peeling and dicing the potatoes. Then wrap the meat together with the potatoes in aluminum foil and bake them at 200°C. The meat should be baked for about 35 minutes, and the potatoes for 20 minutes. While the meat and potatoes are baking, you can finely chop the onion.
Then mix the onion with sugar, half a teaspoon of salt and vinegar. Mix everything and pour boiling water over the onion leave the onions to marinate for 10 minutes. Then boil the eggs and when cooked, they can be grated together with boiled potatoes and cheese. If the chicken is already cooked, cut it into small pieces and do the same with the cabbage.
The salad must not lack sauce
To make the salad tasty, prepare the sauce for it. So, mix sour cream in a bowl and add mustard and salt. Into a salad bowl put a potato on the bottom and cover it with a little sauce. You also don't need to marinate the onion anymore, so drain it and put it on the potatoes. The next layer should be the chicken and cover it with the sauce.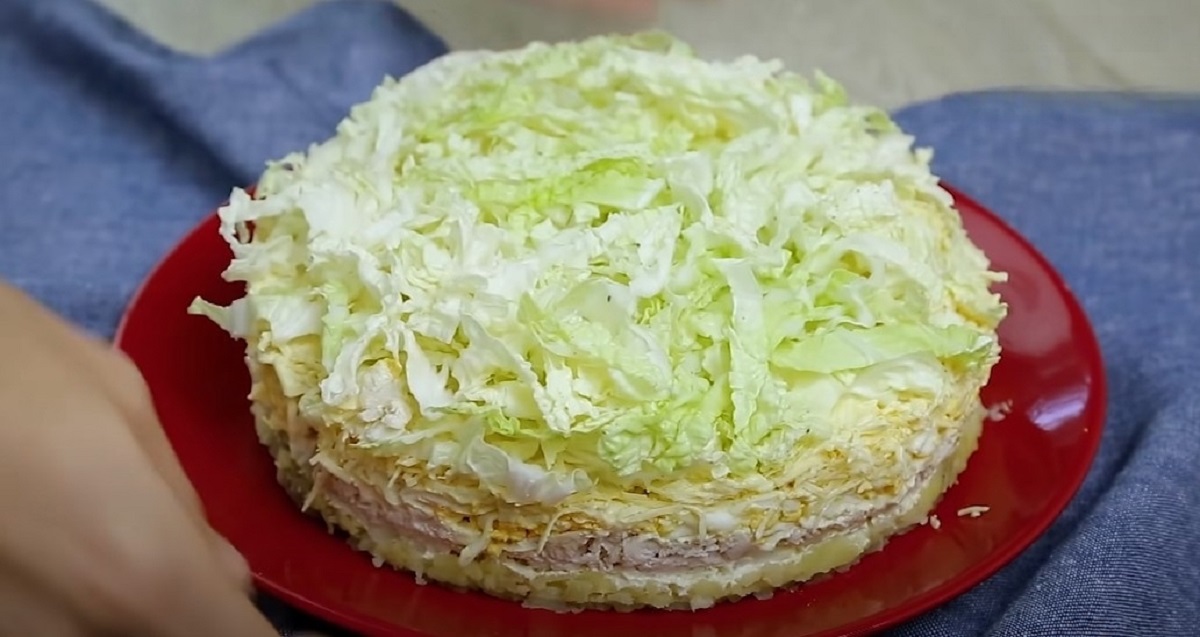 Then coat the grated eggs and add the sauce again. The last layer should be grated cheese and sauce again. At the end, close the salad with chopped leaves of Chinese cabbage and put the whole salad bowl in the fridge for 1.5 hours. Then you can serve and enjoy this great but filling salad.